There are different types of WiFi cameras for sale, but this camera caught my eye because it has features that you don't often see with other cameras. The best thing about the Reli Light Cam is that this camera works for up to 5 months with one battery charge. And it has more very nice features on board! Let's take a closer look at this brand new camera!
Click the image to watch the video
---
⭐⭐⭐ NOTE: ⭐⭐⭐
This article accompanies a YouTube video. I wrote it for people who would rather read than watch a video. In order to keep doing this, I would like to ask you to also check out the video, leave a comment under the video, give the video a thumbs up, and subscribe to my YouTube channel. This means that the video is offered more often to new visitors so that they also stay informed of the latest Home Assistant tutorials.
Thank you for your support!
Ed
The new company Reli sent me this brand new WiFi camera: the Reli Light Cam D1! When they asked me if I wanted to check out this camera, I was triggered by one feature in particular: this camera would work for 5 months on a single battery charge. I could hardly believe that. Wow, a WiFi camera that works on batteries and does not need to be charged for another five months. I wanted to see that.
Although Reli gives me a fee for making this video, I did take a critical look at this camera. I have done this review as neutral as possible.
Unboxing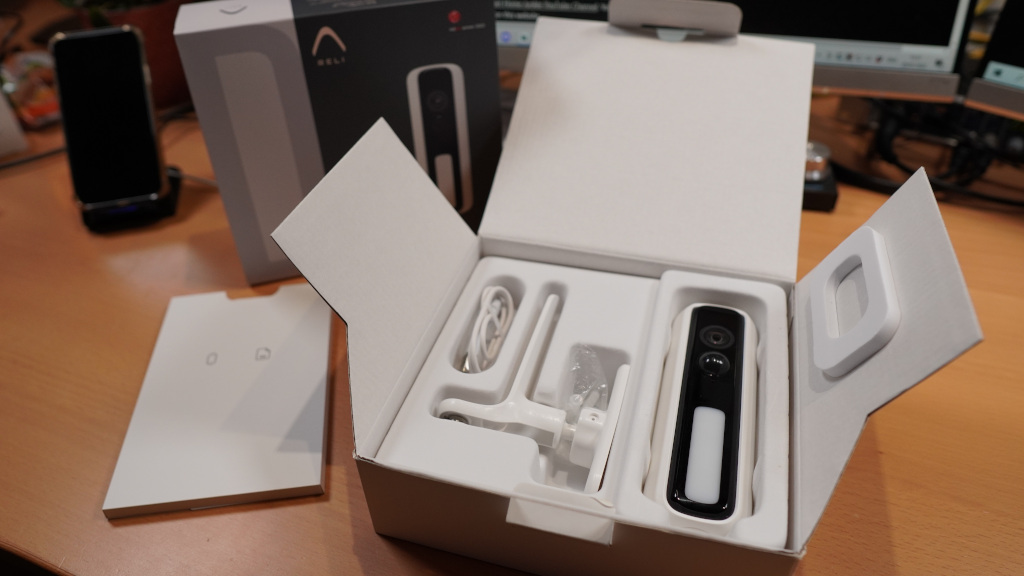 When I received the package, it turned out that it wasn't just the Reli Light Cam D1 in it. The necessary accessories were also included.
The camera itself feels very solid. It's waterproof so you can just leave it outside. There is a cover on the camera, where the connection for the SD card and behind which you can place the SD card. There is also a cover at the bottom where the USB-C connection is located. A camera mount and USB charging cable are included too. You can mount the camera on a stand in two ways: vertically and… horizontally.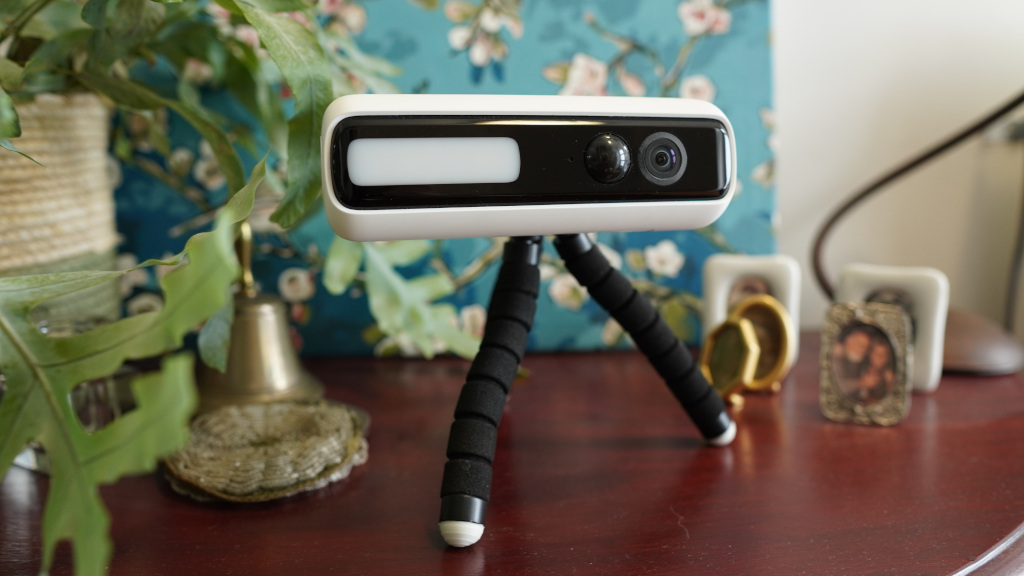 There is also a Solar Panel with a USB-C connection with which you can top up the camera battery if necessary. Now the battery should last 5 months on one charge, but if you hang the camera in a place where it is difficult to reach, then such a solar panel is very handy. The solar panel also feels very solid and there is also a stand with which you can attach it.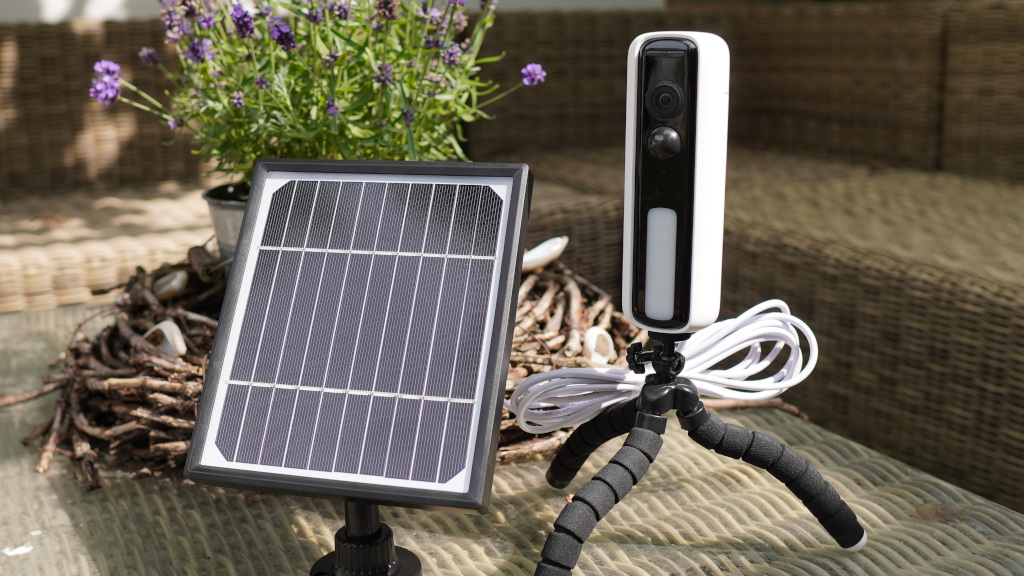 There were also a lot of accessories delivered with the camera to be able to place the camera firmly.
For example, this Desk and Fence Stand was included with which you can securely attach the camera to a fence or a desk.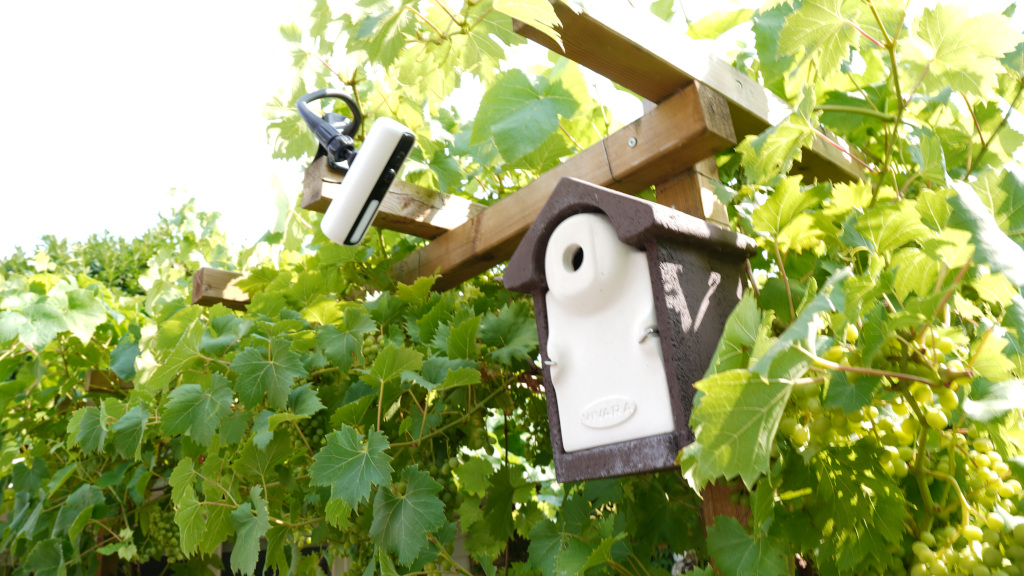 There was also a Ground stand that consists of a number of sturdy metal pins with which you can fix the camera in the ground.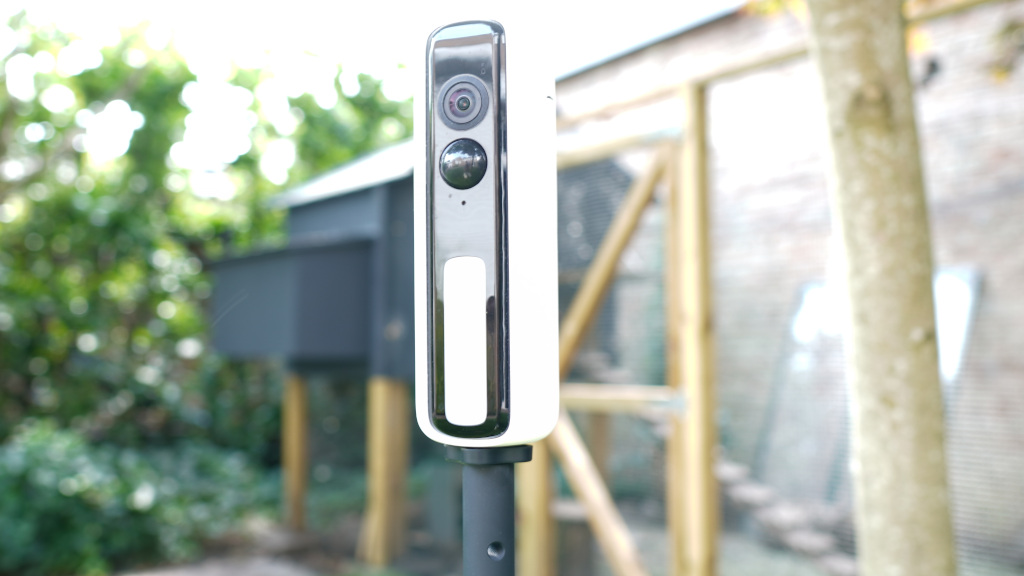 In addition, a Tripod Bracket is included with which you can easily place the camera on a cupboard or a table, for example.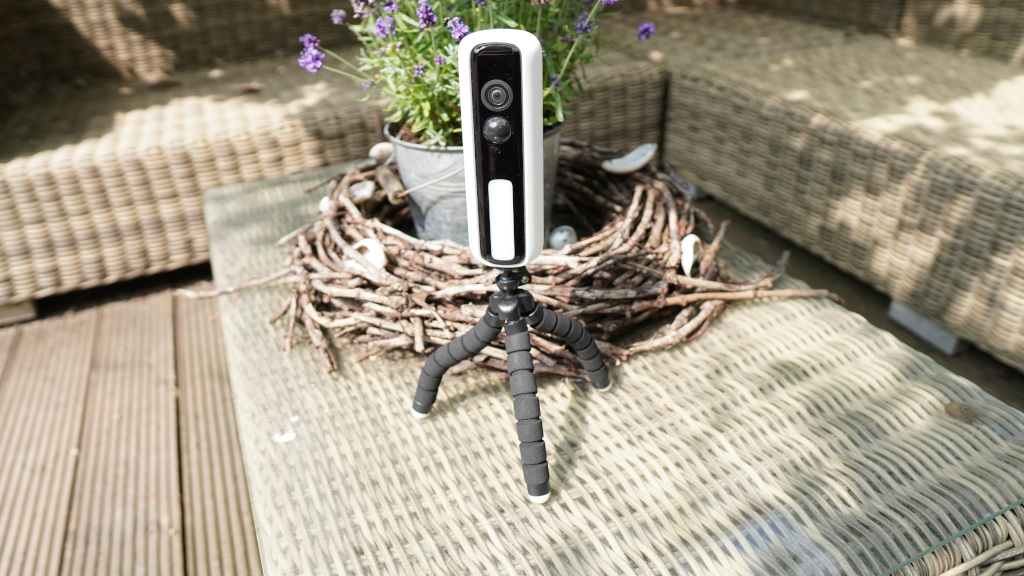 And a strap mount is also included which comes in handy if you would like to mount the camera to a tree.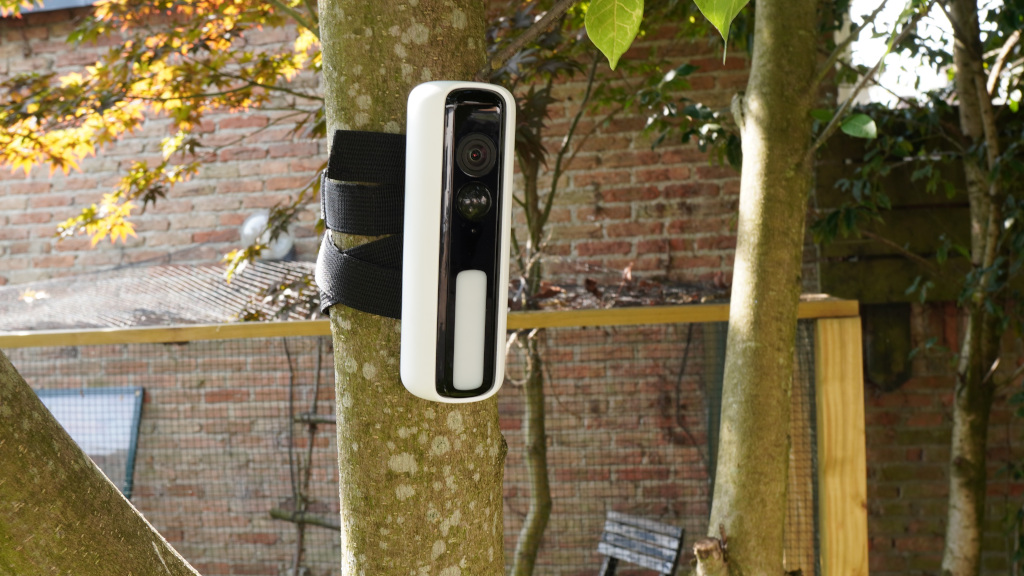 Five Months?
Now I've owned the camera for less than five months, so I haven't been able to test it for five months. Reli says the camera will last up to 5 months on a single battery charge based on 20 triggers per day with a recording time of 15 seconds at a time. I tested the camera more than a normal user would use it for a week. The battery was at 98% by the end of the week. I am quite impressed by that! When I started to record the footage for this video, I used the camera quite intensively for a couple of hours. At the end of that recording session, the battery was at 85%. I think because the camera was connected to WiFi continuously and it was constantly detecting motion.
The Reli Light Cam D1 can be used as a security camera, but it can do much more, and Reli positions this camera around the other functions of this camera.
So what can the Reli Light Cam D1 do?
The camera features in short:
HD 1080p image resolution and 156° wide-angle view
Person detection
Identifies various animal species
Infrared and Full color night vision
Motion detection
Device weighs only 0.5 pounds
Built-in battery with a max of 5 months
Supports cloud storage and micro SD card
IP65 waterproof
I got a pre-release of the camera. As a result, some functionalities cannot yet work optimally.
Connection
What is important about all WiFi cameras is that it has a good network connection. If the WiFi connection on the camera is weak, the camera will also respond slowly if you want to view it live. In that case, it also responds slowly via WiFi if it is triggered by movement. It is therefore important that your WiFi is properly arranged in and around your home. By the way, this applies to all devices, so this is nothing new.
Storage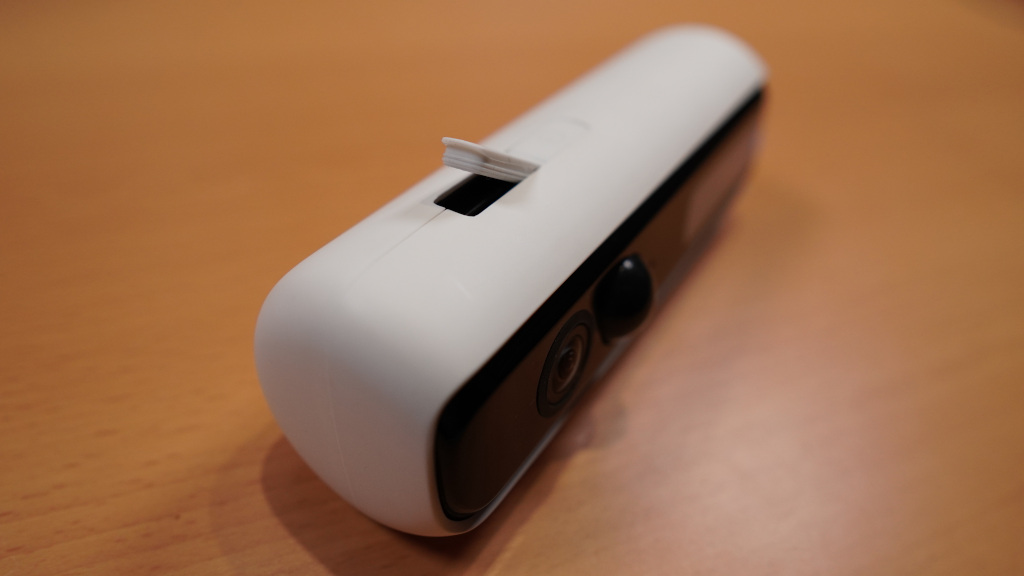 The camera stores images on an SD card and/or in the cloud. The first three months of cloud usage are free. After that, you have to switch to a paid plan. Unfortunately, the exact details of the paid plans were not yet known when I shot this video, but check Reli's site for the most up-to-date details.
The image quality
I tested the camera both indoors and outdoors for a while. During the day and night, I shot different images. The wide-angle lens has a huge range and the image quality is good.
Watch live
You can view the camera live via your phone. and while watching it live, you can choose to take a photo of the image or record the live image. If the camera lens is in full sun, the image will become a bit faded, but that applies to most cameras. The photo and video were saved on my phone.
Other functions during live view.
If you're watching live, you can turn the camera's sound on or off, so you can listen in on what's happening near the camera. You can also set off an alarm that is quite loud! It shocked me the first time and didn't quite know how to turn it off again. it turned out to go off on its own after a while.
When it is dark, the camera shows an infrared image, but you can also turn on a spotlight. As a result, you can see everything in color again when it is dark.
Finally, you can also start a voice call, so that you can talk to someone who is near the camera. The sound quality is quite good.
Speed ​​of triggering of the Reli Light Cam
If motion is detected by the camera, it will start recording and send an alert to your phone. You can set the motion sensitivity in the app. You can also set the Maximum Recording Time and Person detection in the app.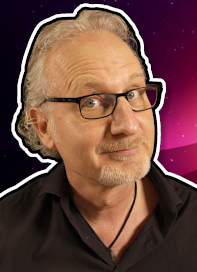 I need your help!
You will be doing me a huge favor if you subscribe to my channel if you haven't already. And, you help me a lot if you also give this video a thumbs up and leave a comment. This way, YouTube will present this video to new people and that will make the channel grow! In the description of the video, you will also find information about how you can sponsor me so that I can continue to make these tutorials for you.
Thank you!
Person detection
The Reli Light Cam D1 can recognize people and animals. If you turn on person detection, the camera can no longer recognize animals. If person detection is on, the camera will register people who have been in the picture. You can then indicate who they are in the app. A new Tag is then created in the app in which the recorded videos are shown and categorized by face.
If the same person comes back into the picture later, it will be recognized properly, so that works fine.
Animal detection
The Reli Light Cam D1 can also be used as a wildlife camera. Because it works on a built-in battery, you can easily place the camera anywhere. Because of all the accessories that I have received, I can place or hang the camera in all possible locations. According to Reli, the camera recognizes more than 200 species of birds and the following other animals: Rabbit, Kangaroo, Raccoon, Bear, Duck, Chicken, Squirrel, Hedgehog, Fox, Deer, Cow, Sheep, Pig, and Horse. Now I have a chicken coop myself, and I thought the camera didn't recognize my chickens, but it turned out that the chickens fell under the tag Wild Animals. Still, my chickens weren't always recognized, but I think it's great that he did recognize them every now and then.
The camera also recognized our cat, even if our cat was only partially in view. There are two animal categories in the app. There is a category for pets and a category for birds. When a new animal is detected, it is automatically added to the correct category. Thre's a huge list of birds in the app that can be recognized. Unfortunately, the birds that I caught on camera are not on this list yet. Possibly because they are birds that live in the Netherlands.
The app
The Reli Light Cam D1 comes with an app that allows you to control the camera. The app guides you step by step in adding the camera to your network. The camera only supports 2.4GHz WiFi networks, but you can also connect it to a combined 2.4/5GHz access point. If your camera is connected, you can configure it further via the app. There is no online environment where you can configure the camera. I configured the camera via my iPhone, but Android is also supported.
View the recordings of the Reli Light Cam
You can view the live view and you can view the recordings in different tags. On my phone, you see the tags category Birds, Pets, Facials, Events, and Locations. You can add tags yourself such as Packages, vehicles, Wild animals, and babies. If the camera recognizes a pet, the recording of your pet is immediately saved within the correct tag.
If you want to save a recording, you can download it to your phone, but of course, it is also on your SD card!
Let's watch some footage that I took with this camera!
Settings of the Reli Light Cam D1
Now let's dive into the settings of the camera.
Camera Settings
Let's open the camera settings first.
Light Control
In the Light Control settings, you can switch the status light of the camera on or off. This is useful if you want to use the camera in the dark and do not want to be bothered by the bright blue indicator LED. In addition, you can set how bright the spotlight should be when you activate it on the camera.
Night Vision Settings
In the night vision settings, you can switch the camera to Infrared or full-color night vision. When you use full-color night vision, your battery drains faster.
Image Settings
In the image settings, you can rotate your image.
Notification Settings
You can turn on various notifications such as Push Notifications for Events when a person is detected or when motion is detected. You can also turn on general alerts.
Recording Settings
You can switch the motion detection on and off in the recording settings. You can also set the sensitivity of the motion detection and you can choose Person or Animal recognition. The maximum recording time can be 10, 20, or 30 seconds.
Manage Storage
Within Manage Storage you can see the status of your SD card and format your SD card.
Photo Album
In the photo album, you can view the photos and videos you have taken while viewing your camera live.
AI Settings
In the AI Settings, you can set what your camera recognizes. Here you can indicate whether the camera has facial recognition and whether it recognizes animals, vehicles, and packages.
General settings
In the General settings, you can change the name, manage the locations, view the status of your network, and set the time zone. You can also set firmware updates so that your camera has the most up-to-date information.
Battery Saving Mode
In the Battery Saving Mode menu, you can also enable or disable Movement detection. You can also set the sensitivity of the camera, person detection, and the maximum recording time here.
Help
In the Help menu, you can view frequently asked questions and report issues yourself.
Home Assistant?
This camera is still so new that there is no integration for it in Home Assistant yet. Perhaps it will come someday. Keep in mind that the battery life will decrease as soon as you constantly stream via this camera.
Conclusion Reli Light Cam D1
I've had the pleasure of playing with the Reli Light Cam for a week and I have to say I'm impressed with the fact that it runs so well on a battery. This allows me to place it anywhere I want using the various accessories that came with it. unfortunately, there were very few birds in my yard when I tested this camera. I will definitely continue to use this camera and will hang it close to a birdhouse in the spring to follow the young birds. For now, I'm using it indoors to keep an eye on my cat. For me, the unique selling point is definitely that this camera runs on a battery and I can place it really anywhere without having to have a power outlet nearby. So, now I'm going to see where I'm going to put it this time.
Outtro
This was my review of the Reli Light Cam D1. You can pre-order it on IndieGogo.
I want to thank everyone who has supported me thus far. Thanks to your support I can continue to make these videos and tutorials. You can support me by becoming my Patron, buying me a cup of coffee, or joining this channel.
Please don't forget to give this video a thumbs up, subscribe to my channel, and check the notification bell.
I look forward to seeing you next time!
Bye bye.